Penmaster catalogue 2016 | 2017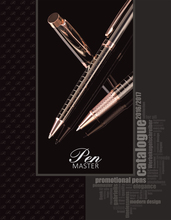 For our partners every year we publish a new catalogue with the updated current offers.
The catalogue is divided into sections distinguished by colours. Blue labels metallic pens and orange for plastic pens. The section marked with green indicates gift sets and gray is used for supplements and the table of contents.
The Products in the catalogue are shown in a 1 to 8 ratio, with all the available colors. For every model the name, type number and net price are provided with technical details and recommended labeling type and size in the small print below.